The Crab Flower Club
Playwright, Director & Set Designer
The 4th International Festival of Theatres, NTC- Splendid Asia
The Crab Flower Club was presented as the premier drama during the ongoing fourth international drama season organised by the National Theater Company of China. Written and directed by Boon Teck, The Crab Flower Club is set in the Qing dynasty (1616-1911) and was inspired by poems from Cao Xueqing's masterpiece, Dream of the Red Mansion, one of China's four classic novels.
December Rains
Director
Esplanade Theatre
A brand new staging of this beloved musical presented at Esplanade Theatre. Helmed by multiple award- winning director Goh Boon Teck, the 2010 revival of December Rains is a visual, emotional and musical wonder. Singapore's international singing sensation Kit Chan is leading the 20-member cast along with Broadway Star George Chan and Singapore-Hong Kong theatre luminary Jeffrey Low. With Elaine Chan as Musical Director, December Rains, a dream production that wets your eyes and melts your heart.
Maha Moggallana
Director & Playwright
A story of filial piety held in celebration of Vesak Day. A heart-warming musical extravaganza by award-winning Singaporean playwright and director Goh Boon Teck, this original Mandarin musical is presented by Golden Pagoda Buddhist Temple and produced by Toy Factory Productions Ltd. While the storyline of the musical follows that of a famed Buddhist tale, the themes of the musical transcend all ages and walks of life.
Asia On The Edge
Creative Director
A very exciting and inaugural multi-disciplinary biennial festival that showcases Asia's leading and upcoming thought leaders, innovators and artists, with a theme called Origins and it seeks to explore and examine what it means to be Asian in the 21st century. Key personalities, trend spotters and leading experts across disciplines of academia, literature, culinary, and performing and visual arts have been lined up to anchor the free and ticketed programmes, promising the audience nine days of thought-provoking topics, engaging culture and lifestyle activities, and performing and installation art works that will trace the evolution of the Asian identity set against a global landscape.
Asia On The Edge
Creative Director
An eclectic combination of Asian culture, design and fashion made up the visually stunning Asia On The Edge (AOTE) 2009. Aptly themed "Evolution", the festival comprised of three components: Evolution, an outdoor installation and performance; Waterways, a craft, design and performance showcase; and Jing, a fashion in-theatre experience inspired by philosophy.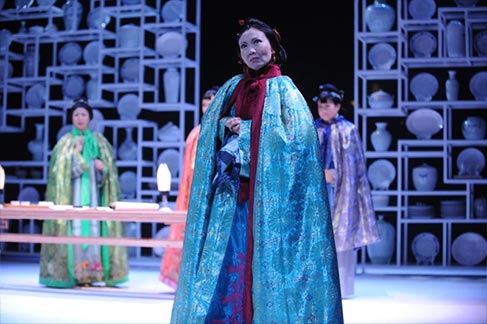 The Crab Flower Club
Playwright, Director & Set Designer
At the Singapore Arts Festival 2009, Toy Factory Productions displayed yet another brilliant local theatre piece. The Crab Flower Club was inspired and produced based on poems in Cao Xue Qin's masterpiece, Dreams of the Red Chamber. Set in a household where five daughters – each with their individual emotional background and experiences – clashed and added their own flavour to complicate, they gather to prepare a feast on the eve of their father's 60th birthday and form an all-women poetry club in secrecy at a time when female artists were not regarded.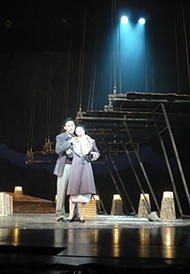 Shanghai Blues
Director
Written by critically acclaimed multi award-winning Hong Kong playwright Raymond Toh, Shanghai Blues is a love story set in 1930s Shanghai. In the midst of a war, a man chances upon an alluring young lady under a bridge and falls in love with her. Unfortunately, several upheavals arise and the two are forced to separate by fate. A love triangle forms as a bubbly young lady steps into the man's life and the three are put through a test of love, friendship and loyalty.
National Day Parade
Creative Director
The theme for NDP 2008 was "Celebrating the Singapore Spirit", inspired by the previous years Prime Minister's National Day Rally speeches. Five domain of the Singapore Spirit emphasised and portrayed during the parade were: Unity, Determination, Confidence, Dynamism, and Compassion.
<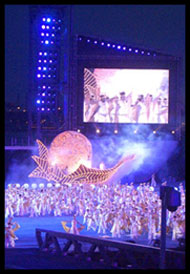 National Day Parade
Creative Director
NDP 2007 was the first National Day Parade held at Singapore's Marina Bay, at the Marina Bay Floating Stage, the largest in the world. The parade's entertainment was broken up into 5 segments based on natural elements such as earth, water and fire. The "Sea" segment, recalled memories of Singapore as a trading sea port; "People", which paid tribute to Singapore pioneers; and "Fire", celebrated the Singapore Spirit which lighted up the grand finale.

Another main highlight was the largest orchestra ever put together for the National Day Parade.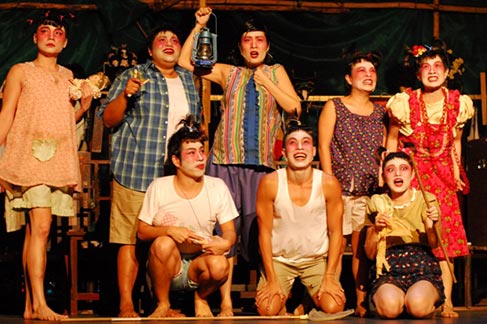 Titoudao
Director & Playwright
A humorous and brilliant tale about a street wayang actress. Titoudao attempts to create a greater awareness for traditional culture and the diminishing art in our fast- moving society. Using an array of juxtapositions of good and bad, past and present, tradition and modernization, and a diversity of languages, it touches on the issues of changes in society and the much-debated Singapore identity.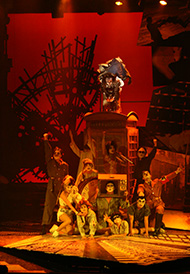 Cabaret
Set Designer
In a world that is lost in the mists of time.

The stage is set for the most recklessly degenerate era the 20th century has known. Glittering in this giant boudoir of rot and romance is a cabaret called the Kit Kat Klub, where a fiendish and seductive Emcee holds court, while a brazen bevy of dancers holds your rapt, scandalised attention. Starring International star Fei Xiang and Singapore songbird Emma Yong.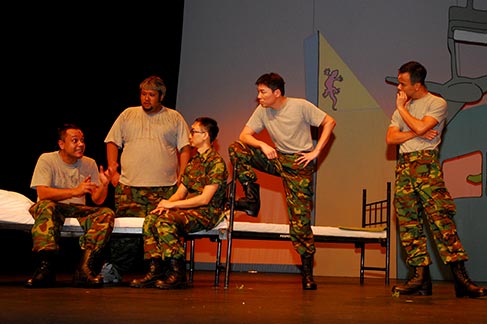 Army Daze
Director & Set Designer
Army Daze written by Michael Chiang, salutes Singaporean boys as they don uniforms and begin their march into maturity whilst celebrating how the sons of diverse circumstances come under one camp and become brothers; where the boundaries of race, age and social status become blurred.
Long House
Playwright
Inspired by a true Singaporean story, Long House is the ninth original play written by Toy Factory's Chief Artistic Director Goh Boon Teck. Employing razor-sharp languages and fearless, satirical perspectives, it speaks of the entangled relationships within the Bai family. Their familial house, or long house as it is affectionately known, is long not only in structure, but also in history. As the battle between these modern individuals and their collective heritage begins, rivalry and jealousy, fear and violence, needs and lust all spiral towards a common perversion – love.
Spirits
Director & Set Designer
Shanghai
Commissioned by Singapore Arts Festival 2005, Spirits is a collection of tragic stories about five famous Chinese women in the History of China. Condemned as evil spirits reincarnated to destroy empires and dynasties, the stories of these five women will be retold under new perspectives in Goh Boon Teck's Spirits. It was written by Koh Teng Liang and performed by five Leading Male Chinese Opera Actors in Asia. The music director and arranger was Saidah Rastam.
Porcelain
Director
Winner of the London Fringe Award in 1992 for 'Best Production', Porcelain was playwright Chay Yew's startling debut that attempts to bridge the gap between men who publicly claim they are straight and the gay men who know better. Porcelain is a story of extremes: love and hate, want and need, life and death, bigotry, loneliness, violence, homophobia and the dark side of an all-consuming passion. Staged throughout the world to furious critical acclaim, Porcelain makes its long-anticipated debut in Singapore under the helm of the award-winning directorial duo, Goh Boon Teck and Beatrice Chia-Richmond, and starring LIFE! Theatre Awards Best Actor nominees, Nelson Chia and Mark Richmond.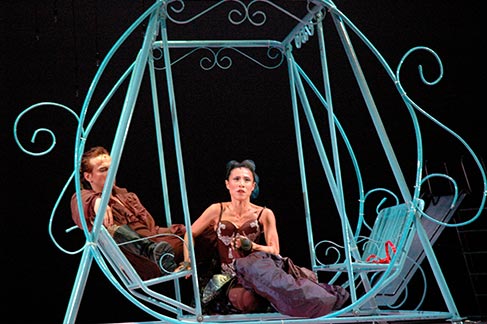 Dangerous Liaisons
Set Director
In a world where sex is a high stakes game of power and control, how much can you lose when you fall in love? Set in 18th Century France, Dangerous Liaisons charts the sexual politics played by high society denizens Vicomte de Valmont and Marguise de Merteuil. Bored with his wealth, Valmont connives with the Marquise to destroy the innocence of Cecile de Volanges, a convent bred 15-year-old, and the virtue of Madame de Tourvel, a married woman known for her strict morals and religious fervor. The two cold blooded aristocrats strike a deal: if the two women are seduced and properly abandoned, Valmont will win an evening of sexual sport with Merteuil.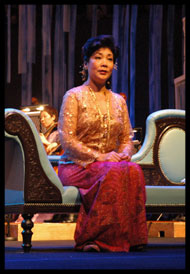 Thunderstorm
Director
Presented by Singapore Chinese Orchestra and directed by Goh Boon Teck, Thunderstorm the Mandarin Opera was one of main highlights in Esplanade's Hua Yi Festival 2005. Composed by Shanghai Conservatory trained Mo Fan; Lei Yu, or Thunderstorm, was staged at the Esplanade's Concert Hall, with a stellar cast that includes luminaries like soprano Gao Man Hua, Malaysian Tenor Chin Yong (of the 3 Asia-Pacific Tenors), and SLO artistic director Dr Wong Su San.