Songs of Liu San Jie
Director
Esplanade Concert Hall
Experience the allure and exuberance of iconic Chinese folk songs from the famous musical film Liu Sanjie in this special concert by the Singapore Chinese Orchestra. Even after half a century, several of the songs from the film are still remembered and recognised by many today.
Sometime Moon
Director & Playwright
Victoria Theatre
As the first professional Hokkien musical to be staged in Singapore, Sometime Moon takes you back a century ago to a time where our forefathers sailed the seas to arrive on the shores of Nanyang in search of better lives. This is the story of three early settlers with varied backgrounds coming together to set up a Huay Kuan, and its importance in paving the way for the preservation of cultural legacy in Singapore.
A Dream Under The Southern Bough: The Beginning
Director
SOTA Studio Theatre
The first of the A Dream Under the Southern Bough trilogy, this production is an ambitious and modern adaptation of Tang Xianzu's epic Ming dynasty opera. Directed by renowned director Goh Boon Teck, The Beginning follows a discharged and disgraced naval officer Chun Yu Fen's dreamland escapade into a mighty Ant Kingdom as he sleeps under an old sophora tree, intoxicated.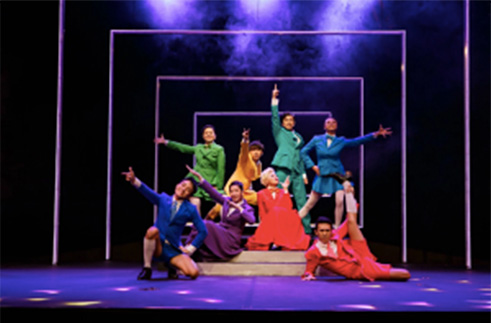 Masters of Comedy
Director
Singapore Chinese Cultural Centre
Masters of Comedy, the opening performance of Cultural Extravaganza 2018, pays tribute to iconic comedians in Singapore including Wang Sha Ye Feng, Jack Neo, Mark Lee and Hui Ge. It takes on a talk show format and explores the evolution of culture and development in Singapore in a light-hearted and comedic show sure to bring bouts of laughter to the audience!
Oedipus
Director
NOWPlaying@17
As part of Toy Factory's lab experiment project and with aims of reworking the conventions of theatre for complete creative freedom, Oedipus was staged in a shophouse, where audiences enter a crime scene and inevitably get embroiled in the narrative. As incidents leading up to the murder are revealed, we enter a world where moral ethics belong to the rich and plenty. This project examines the prejudice and often too-quick judgment society has placed on the less fortunate, but are they always truly the ones at fault?